Open to any and all entrants (limited only by number, age, grade level and/or gender).
There are no events currently available.
Welcome to LMU Baseball Camps! Head Coach, Nathan Choate, is excited to announce multiple opportunities to showcase your talents. The LMU Baseball coaches and players are excited to host you at Page Stadium and illustrate what a day in the life of an LMU student-athlete is like. Our prospect camps are for advanced high school baseball players (grades 9-12) who aspire to play both collegiately and professionally.
Our goal is to provide an atmosphere that allows each camper to perform at the best of their ability in the daily activities of camp. Our coaching staff and players look forward to hosting you and helping you fulfill your maximum potential each day.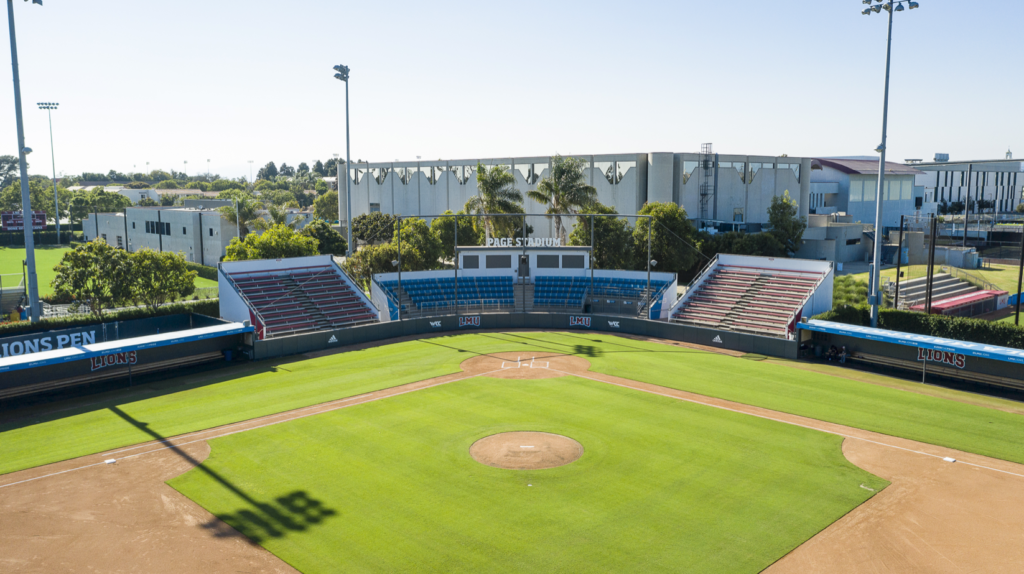 George C Page Stadium
Entering its 33rd season as the home of Lion baseball in 2015, George C. Page Stadium will also continue a new era of play – with only it being the second season under the lights (stadium lighting was installed in the summer of 2013 to Page Stadium). Boasting features such as the Mikos Blue Monster, Pride Park and the Lion's Cage down the line in right field, Page Stadium continues to stake its claim as one of college baseball's most unique ballparks.
Thanks to a gift from Paul Mikos `66, a wall containing a manual scoreboard was installed in left field in 2001, complete with out of town scores reminiscent of some of Major League Baseball's classic ballparks. The Mikos Blue Monster is a replica to Boston's Fenway Park's Green Monster. The Mikos Blue Monster stands 130-feet wide and 37-feet tall. Within the wall is one of only a handful of manual scoreboards in all of college baseball. The board itself isn't small, standing 18-feet tall and 46-feet wide. Complete with the LMU line score and other score updates, the scoreboard combines some old-time baseball charm with today's modern technology. The scoreboard has electronic balls, strikes and outs lights, along with electronic at-bat and hit/error identification. Every other component is tallied using 2-foot square aluminum scorecards slipped in behind the scoreboard manually.
Giving Page Stadium additional character is a five-foot indent connecting the Blue Monster with the existing outfield fencing, similar to the odd outfield shapes of the classic Fenway Park in Boston and Minute Maid Park in Houston.
The stadium, built at the site of LMU's old baseball field, was completed at a cost of more than $250,000, with the Incentive Aid Foundation of Los Angeles providing the majority of the funding. Boasting grandstand seating for approximately 600 people, the facility features an ushered "VIP" section with nearly 200 theater-type seats located behind home plate. The remaining seats are aluminum with backrests and are located along the first base and third base lines. Field accommodations include spacious field-level dugouts and bullpens, a batting facility featuring multiple batting cages, windscreen around the perimeter of the field and grandstand. A picnic area, located down the first base line, was remodeled following the 2008 season.
The backstop has been modified to enhance spectator viewing of the action on the field. The press box, fully equipped to meet the needs of all media, is located behind the "VIP" seating. A convenient concession stand is located near the north entrance of the stadium.
In the summer of 2004, LMU constructed Pride Park, the stadium's entrance. The park, resembling a scaled-down baseball infield, recognizes alumni and friends of LMU baseball, and provides fans with a gathering point for athletic events at LMU.
LMU baseball's Lion's Cage was completed and opened for use before the start of the 2008 baseball season. The 8,000 square foot training den, which is located down the right field line at Page Stadium, features multiple hitting tunnels, pitching mounds, and a baseball lounge for players equipped with couches, a big-screen television, billiards table and shuffleboard. The cage serves as an all-purpose facility for those associated with LMU baseball.
Inside, the massive space is lined with turf and divided by batting cage nets that can be raised and lowered. The nets and portable pitching mounds allow all players the opportunity to train and practice whether rain or shine. The far side of the training den is used primarily as a players' lounge. The Plexiglass roll-up doors on both sides of the building offer the shade and convenience of hitting indoors, while at the same time allowing players to practice in the comfortable Southern California weather.
Page Stadium has been the site of filming for numerous commercials, television shows, and feature films. It served as the site for the baseball scenes in the hit movie "My Blue Heaven" starring Steve Martin. It is also home to many camps, clinics, Little League and prep All-Star games. The facility, which has been used for outdoor community cultural shows and events, is named in honor of George C. Page, President of the Incentive Aid Foundation. Assisting Mr. Page and the IAF in the stadium's completion was Maynard Kambak, father of LMU baseball alumnus Jeff Kambak.
LMU's historic first game in Page Stadium was played on March 19, 1983, with a 5-1 loss to Cal State Fullerton.
PLEASE CHECK YOUR EMAIL REGULARLY AS THIS IS OUR PRIMARY WAY TO COMMUNICATE. ANY ADDITIONAL INFORMATION THAT WE NEED TO CONVEY AS THE CAMP DRAWS CLOSER WILL BE PASSED ON TO YOU VIA THE E-MAIL ADDRESS THAT YOU SUPPLIED WHEN YOU REGISTERED FOR CAMP. PLEASE MAKE IT A HABIT TO CHECK YOUR E-MAIL DAILY, THIS WILL ELIMINATE ANY CONFUSION AND OR MISCOMMUNICATION
Website & Online Registration by ABC Sports Camps.
Copyright 2020 © ABC Sports Camps – All rights reserved.