12/27/23 - 12/29/23
$225.00
Titans Winter Youth Baseball Camp

Location: Goodwin Field - 800 N State College Blvd, Fullerton, CA 92831
Registration Ends: 12/26/2023
Grades:1-6 | Starts:9:00am /Ends:12:00pm
01/08/24 - 01/29/24
$160.00
Monday Night Hitting with the Titans Grades 3-7

Location: Goodwin Field -800 N State College Blvd, Fullerton, CA 92831
Registration Ends: 01/29/2024
Grades: 3-7 | Starts: 6:30pm / Ends: 7:30pm
01/08/24 - 01/29/24
$160.00
Monday Night High School Hitting (8th Grade-High School)

Location: Goodwin Field -800 N State College Blvd, Fullerton, CA 92831
Registration Ends: 01/08/2024
Grades:8-12 | Starts: 7:30pm / Ends: 8:30pm
01/13/24 - 01/14/24
$200.00 - $375.00
Titan January Prospect Camp

Location: Goodwin Field - 800 N State College Blvd, Fullerton, CA 92831
Registration Ends: 01/12/2024
Open ONLY to Grades 9th-12th and JC Players
Starts: 9:00am / Ends: TBD (Depending on number of participants)
About Titan Baseball Camps
The Titans Baseball Program is built on Tradition and Hard-nosed blue collar baseball players and coaches.  Legendary Head Coach Augie Garrido built the stomping grounds for future Titans many of years to come!  The Titan Tradition was built on doing your job the right way and at a high level.  It was also built on giving the guys to your left and right your all at all times!  The Titan Tradition has conquered 4 National Championships and a streak of 29 straight years of making it to the post season.  Today thanks in part to the Titan Greats of Phil Nevin, Mark Kotsay, Jason Windsor, Thomas Eshelman, Justin Garza, Matt Chapman, J.D. Davis and Michael Lorenzen; Cal State Fullerton Baseball is a Nationally Recognized program.
For you Future Titans, this is a great opportunity to showcase your skills in front of a talented coaching staff led by Head Coach Jason Dietrich, Assistant coaches: Neil Walton, Josh Belovsky, Jake Pavletich, Connor Spencer and Garrett Fisher.  You will grow as a baseball player and gain knowledge from some of the best coaches in the game of baseball. 
Assistant Director of Baseball Operations
Camp Coordinator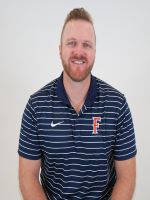 Director of Player Development
Director of Baseball Operations
On April 18, 1992, Goodwin Field became the new home of Cal State Fullerton baseball. The occasion was marked with the Titans sweeping a doubleheader against Loyola Marymount, 8-2 and 11-3, setting the tone for the next two decades. Two-thousand twelve marked the 20-year anniversary of the home of the Titans.
 
Read More
Cal State Fullerton Baseball Camps
Website & Online Registration by ABC Sports Camps.
Copyright 2020 © ABC Sports Camps – All rights reserved.