Our Dirtbags Baseball camps in Long Beach, California range in ages and we should have a program to fit your needs. If you do not see a date that works for you at this time please check back to the site as we add new sessions often.
Once a camp reaches capacity, registration is closed meaning the event is 'Sold Out'
and NO walk-ups will be permitted.
There are no events currently available.
These camps is independently owned and operated and is not affiliated or managed by CSULB/Long Beach State University/LB State Athletics.  CSULB/Long Beach State University/LB State Athletics does not sponsor or endorse this independently owned and operated camp. 
About Dirtbags Baseball Camps
The Dirtbag Baseball Camps at Long Beach State University provide some of the finest college baseball camps, high school baseball camps and instructional skills clinics in Southern California. Whether its a weeklong summer camp, winter holiday camp or fall ball clinic they do it all.
Our baseball camps are staffed by the Long Beach State coaches and players. We pride ourselves in playing the game the right way. The "Dirtbags" way. It is this philosophy and tradition that has led Long Beach State to be one of the top college baseball programs in the country." Dirtbag Baseball Camps are open to any and all entrants, limited only by age, and/or availability but spaces are limited.
Youth Camp Frequently Asked Questions
Bohl Diamond at Blair Field
One of America's best amateur baseball facilities, Blair Field in Long Beach will once again be the home site for Dirtbags games. Blair Field is operated by Long Beach State under an extended lease from the City of Long Beach and is in Recreation Park at the corner of 10th Street and Park Avenue. Blair Field has been honored by Baseball America as one of the top 15 collegiate ballparks in the nation.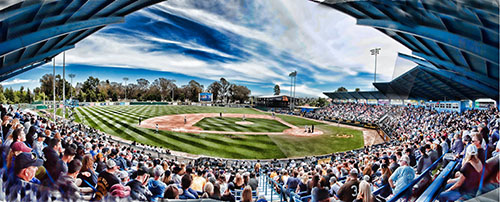 Questions regarding J Athletix Baseball camps at Long Beach State University?
Contact Ryan Day at 562.985.4661 or ryan.day@csulb.edu
Don't miss the opportunity to attend this amazing Big West Conference Baseball Camp!
PLEASE CHECK YOUR EMAIL REGULARLY AS THIS IS OUR PRIMARY WAY TO COMMUNICATE. ANY ADDITIONAL INFORMATION THAT WE NEED TO CONVEY AS THE CAMP DRAWS CLOSER WILL BE PASSED ON TO YOU VIA THE E-MAIL ADDRESS THAT YOU SUPPLIED WHEN YOU REGISTERED FOR CAMP. PLEASE MAKE IT A HABIT TO CHECK YOUR E-MAIL DAILY, THIS WILL ELIMINATE ANY CONFUSION AND OR MISCOMMUNICATION
J ATHLETIX BASEBALL CAMPS
Website & Online Registration by ABC Sports Camps.
Copyright 2020 © ABC Sports Camps – All rights reserved.